Pawn Your Breitling Watch in Minutes!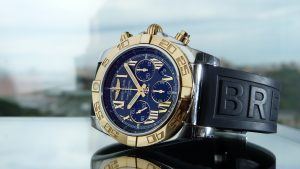 The trouble one might have with incredibly valuable assets like a Breitling Watch or exotic vehicle is being able to liquidate it when we're in need of fast cash.  People aren't quick to snap up a few thousand or couple tens of thousands luxury watch for a quick sale.  That's where North Scottsdale Loan and Gold comes into play, the leading Scottsdale pawn shop for the better part of the last decade.  We can pawn your Breitling watch in a matter of minutes and send you on your way with the thousands of dollars you need in a pinch.
Pawning Your Breitling Watch: The Process
Typically with an asset like this, no matter if you're in Phoenix, Tempe, or Scottsdale, it's beneficial if you contact North Scottsdale Loan and Gold first either by phone, e-mail, our application, or our live chat at the bottom of the screen.  This way we can give you a rough quote and make sure we have the cash on hand that you need before you come down to our location.  At North Scottsdale Loan, we're all about getting you in and out with the cash you need.
Once you've done this, we'll get you a fast cash quote over the phone or in person.  Our trained associates are knowledgeable about luxury watches meaning they can quickly verify their authenticity and true worth.  We look at every aspect when you pawn your watch such as the quality, age, overall wear-and-tear, and perhaps personal credentials depending on the amount you're looking to get.  Our last step in the process is to evaluate the global selling price of these used watches to see what its resale value is.  With all this information, we'll make you a cash Breitling watch offer.
One aspect we always want our customers to consider is to only take the cash that you need for your financial emergency.  Especially with such a high value asset, the interest on your loan can accumulate quickly and put you in a bad situation come the end of the loan term.  Taking only the minimum you need for your expense makes sure that you're able to repay your loan.  When you accept our offer, we'll collect a few signatures from you and take your Breitling watch back to our secured, insured, and monitored storage facility.
Repaying Your Breitling Loan
We make repayment is easy no matter if you're from Phoenix, Tempe, or Scottsdale.  By Arizona Law, when you pawn Breitling watches the loan is written out for a period of 90 days.  Come the end of the loan term, the interest plus the amount borrowed is due in full but if you're not prepared to pay the full amount, you can always simply pay off the interest and North Scottsdale Loan is more than happy to extend the loan for another 90 days.  So what're you waiting for?  If you need a quick thousand dollars, come and Pawn Breitling Watches today and walk away with fast cash.