Sell Paint Sprayer of Any Kind for Fast Cash


There have been many paint sprayers sold for Do-It-Yourself projects at home, thinking they would have find more ways to use it. Yet once you completed the projects at hand, the use of it is minimal at best.  As a result, unless painting is your profession, these can be valuable that just sit in the garage.  Therefore, why not sell paint sprayer to North Scottsdale Loan & Gold and put some extra cash in your pocket.  Our pawn shop offers the highest amount imaginable, and then quickly turns it into cash in your hands.
Brands of Paint Sprayers That Can Get You the Best Offers
Valuation to Sell Paint Sprayers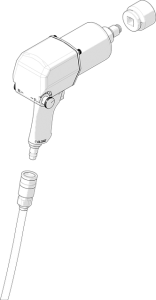 North Scottsdale Loan & Gold provide assessments to sell paint sprayers free of charge.  Our valuation will begin with examining the exterior of the equipment's visual appeal.  Thereby, making sure that the equipment has been maintained properly.  After that, we will ensure that all accessories and attachments are present, then plug it in and test the internal aspects of the condition.  Finally, we will refer to the current market value and then present our offer to you.
Tips for the best offer possible:
Make sure the equipment is as clean as possible inside and out, when you bring it in the store.
Have all accessories and attachments that came with it, or you bought separately organized to make the assessment as smooth as possible.
If you still have the sales receipts, and/or the original packaging the equipment came in, bring them with you.
Turning Offers Into Cash In Your Hands
Once an offer is accepted, we will need your valid Arizona Driver's License and a few signatures to finalize the sale.  After that, we will count out the offer in cash and hand it directly to you.  From the time the assessment starts, until the time you walk out with a pocket full of cash can take as little as 10 minutes.  Because at North Scottsdale Loan & Gold, we value both time and quality items.
Not ready to sell paint sprayer, but still need cash?  Click on the bottom right of the screen an an assistant can help start the process for you to pawn paint sprayer for almost the same amount of cash.  
North Scottsdale Loan & Gold strives to offer the most amount possible for valuables when you need cash fast!  For over a decade residents of Scottsdale, Paradise Valley and Fountain Hills rely on our pawn shop to recognize quality items and offer a fair price!