Silver Bullion Buyer Scottsdale
Silver Bullions are treated like gold with us!
I need a Silver Bullion Buyer Scottsdale Location!
The value of silver bullions has remained relatively stable, even in the midst of turbulent economies. That said, in order to see that value play out, you would need a buyer willing to offer money for this precious commodity. Enter North Scottsdale Loan and Gold: a premier pawn shop and buyer of all precious metals, gems, and valuables. With us at the forefront of the pawning industry in the Valley of the Sun, we have become the Silver Bullion buyer Scottsdale citizens have come to rely.
So you Buy Bullions of Silver? How does that work?
The process is very straightforward. Just like with gold bullion, jewelry, and platinum, THE silver bullion buyer Scottsdale location will inspect your bars of bullion to ensure you get the most cash value we can provide. Once we are satisfied with the bullion in question, which is often that we are satisfied, we give a cash payout up front for the item. If you like what we offer, you get cash on hand in minutes shortly following some paperwork.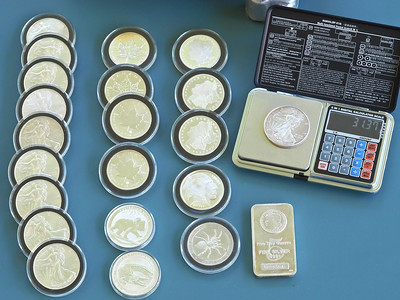 Is There a Difference in Between Buying And Loaning?
There IS a difference between the two, and the Silver Bullion Buyer Scottsdale location is proud to explain:
When having us buy your bullion, it's a permanent purchase, meaning all sales are final. If you want to get your bullion back after that transaction, you would have to buy it back to us at our asking price.
If you prefer to get you bullion back before finalizing this transaction, we HIGHLY RECOMMEND getting a bullion loan instead. You may be surprised at what you get from such a loan. And yes, we are also a pawn shop of many many talents and trades. 
While on the subject of loans, if we loan on your bullion, we hold onto it until the loan is paid for, and then return the bullion back to you. If we bought your bullion, we keep it. 
What make North Scottsdale Loan and Gold so special?
North Scottsdale Loan and Gold has been a staple of success in the pawning industry and local businesses in general. NSDL (as some locals call her) has firmly established herself as a key place to get money when other locals have either turned them down or offer less than worthwhile deals. Finally, we are a local business so not only do our profits and proceeds help local families in the area, we also provide vital economic funding for our community. And now we've reached the lives of those that live in the surrounding cities of Tempe, Phoenix, Mesa, and even Paradise Valley! But don't take our word for it: stop by today and see what we have to offer.
Got Questions for Us? We're here to answer them!