Designer Cufflink Buyer in Scottsdale
Scottsdale, North Phoenix, Paradise Valley & Fountain Hills
The Designer Cufflink Buyer in Scottsdale
We are the premier designer cufflink buyer that makes the best cash offers possible!  While some knockoff brands of cufflinks cut corners and costs, nothing beats a designer's quality brand.  And nobody makes better offers than North Scottsdale Loan & Gold.
Cufflinks were once jewelry items that were a necessity for businessmen, but have been replaced by convenience for many.  However, the most revered and powerful business men knows how to dress for success.  Therefore, they continue to secure their cuffs with these little gems.  They not only elevate a man's wardrobe, but symbolize his standing in the world.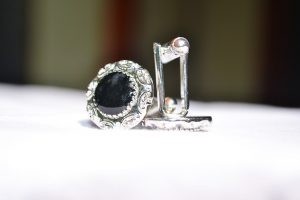 What Defines Designer Cufflinks?
Cufflinks are like a missing piece of a puzzle, while connecting their cuffs with style.  Depending on the designer, these are a fashion statement that can define a man's personality.  Whether they are animal-inspired, airplanes or use gemstones to accentuate them, they are a stylish.  They have the ability to swoon admirers by flaunting their appeal at soirees.
Designer cufflinks can be made of platinum, gold, silver or stainless steel finish.  Many designers use colored glass or even precious gems like opals.  In addition, some designers use hand illustrations, create movable molds, and use classic designs that speak for themselves.
Valuating Designer Cufflinks
To begin the appraisal of the cufflinks, we locate the hallmark, also known as the hidden stamp.  As a result, we will be able to identify the designer.  After that, we then can confirm their authenticity with Entrupy.  In addition, we will reference the market's value for that particular pair of cufflinks.  In the end, we are able to calculate the offer and present it to you.  
Designer Cufflinks We Offer Cash On
OMEGA
Salvatore
Versace
Dunhill
Alice Made This
And Many More!
Rather Pawn than Sell Your Designer Cufflinks?
Speak to an associate about the options we offer to get the cash you need.  With a pawn loan you can have the cash today and 90 days to pay off the loan.  You will have your designer cufflinks back in your possession the same day you satisfy the loan. Our staff members can inform you of all the ways we can make cash available to you today and what you can utilize as collateral.
North Scottsdale Loan & Gold has served the community for over a decade.  It is our goal to help you get the most cash possible.  Whether you are looking to sell, pawn or buy valuables, we are your store!