Sell Jewelry Scottsdale Residents for the Best Cash Offers
Never has it been easier than the modern day to sell jewelry in Scottsdale for a good price.  Selling gold and silver can be done in just about every corner of the city it seems like these days.  The largest source of gold and silver obviously comes from jewelry, so selling jewelry has become a prime product this day and age.  No matter whether it's silver or gold jewelry you're selling, North Scottsdale Loan and Gold is the only place to visit.
.
It's simple!  It all begins when you bring your jewelry down to our North Scottsdale pawn shop.  Our associates have been trained by the best for testing gold, silver, watches, and gemstones.  One of our associates will take your jewelry and locate the hallmark or stamp.  On rings, this will be inside, on a necklace or earring, it's typically found on the clasp. The stamp indicates the karat of the precious metal.  Its purity is divided by 24 parts.  For gold, it can be 10kt, 14kt, 18kt, and 24kt.  The higher this number the higher the purity and the more cash we can give you. (For silver, it'll typically say 925 but can say sterling or 999.)
What we'll do next is perform an acid test on it.  We collect a few flakes of gold/silver from the piece of jewelry on a special stone that doesn't damage the jewelry.  Specialized acid is used on these flakes.   So consequently, if there's no reaction, then we know it's genuine at that purity.  We then collect a weight in grams of the jewelry, refer to the Spot Price of that date and time.  After that, the associate will calculate an accurate appraisal and offer.
How Does Selling Jewelry With Stones Work?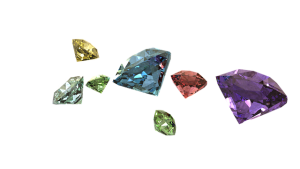 This is actually a really good question that we get often.  With diamond jewelry, the gold and diamond are appraised separately.  When we get the weight of the diamond (we have a whole separate process for this found here) we subtract it from the weight of the piece as a whole.  For other precious stones we can pay extra for its aesthetics, but those stones separately (rubies, sapphires, emeralds) aren't worth much when they aren't sold retail.
If you'd like to get a quote on selling jewelry, feel free to use our Online Application, our live chat down below, or just come on down to our shop.  You can trust you're dealing with professionals when you visit North Scottsdale Loan and Gold.
From Appraisal To Cash
This is a cash offer meaning that all we have to collect are a few signatures before we can put cold, hard cash in your hand.
There's no catches whatsoever.  Scottsdale citizens have trusted North Scottsdale Loan and Gold for over a decade because we pay the best rates for selling jewelry in town.  We update our gold and silver prices daily according to what the global market is paying for them.  On top of that, we're always very close to what that actual price is.  No matter if you're in Phoenix, Tempe, or Scottsdale, we're the only place to stop.
So what're you waiting for?If you need fast cash, let us be your jewelry buyer in Phoenix, Tempe, and Scottsdale. We're more than happy to offer free quotes/estimates as well if you'd like to just pop on by as well.