Rolex Submariner
The Rolex Submariner is part of a line of professional watches designed for the intensely active client. From mountain climbing to scientific exploration, these watches are much more than time-telling devices. The Submariner is one of Rolex's most popular models, specifically designed for deep-sea diving.
History of the Rolex Submariner
Debuting in 1953 and continuing in production today, the Rolex Submariner was the first diver's watch deemed waterproof to a depth of 600 feet. The first edition had a very thin case whereas later editions sported thicker case backs and a slightly different case shape. Within the next several years the original Submariner was improved upon and updated several times, increasing its waterproof properties to the current depth of 1000 ft.
In 1965 the first Submariner Date was introduced to the Rolex line. This model has a window where the day of the month shows through. Over the years, newer editions of self-winding calibre were incorporated to improve the watch's precision and its ability to resist shock and temperature variation.
Submariner Size and Weight
The current model retains much from the timeless design of the 1950's. It continues to sport Rolex's patented oyster case, which was the first waterproof wristwatch case ever invented. The Submariner's size is 40mm. Depending on the exact model chosen, the watch weighs between 135 and 155 grams. In addition, Rolex guarantees the watch to be waterproof to 300 meters or 1000 feet.
The Submariner bezel contains engraved graduations and is virtually scratch proof due to its hard, ceramic material. Because the edges of the bezel are knurled, divers are able to easily grip it, even under water with gloves on.
The current model is equipped with Calibre 3135, a certified Swiss chronometer, that continues to keep incredibly precise time. According to Rolex, their chronometers "ensure high performance and adherence to uncompromising requirements in terms of precision, reliability, shock-resistance, efficient self-winding and ease of maintenance." Calibre 3135 operates at a frequency of 28,800 beats per minute and contains a weight which rotates freely in both directions when on the client's wrist to provide a seamless source of energy.
Another interesting feature on the Submariner is the 904L steel which is extremely durable and resists corrosion. Used mainly in aerospace and other highly technical industries, 904L steel is far superior to the 316L steel used in most watches. Higher quality materials produce a superior, longer-lasting product, which is what Rolex is known for.
Distinct Features
In addition to its deep-sea waterproof qualities, the Submariner sports a unique bezel design which rotates to show divers how long they have been submerged. This distinct feature makes it possible for divers to accurately monitor their diving time and decompression stops.
All Rolex watches sport Rolex's signature Oyster bracelet. The Oyster bracelet on the Submariner utilizes Rolex's patented Glidelock clasp. Particularly useful for divers, the Glidelock clasp allows clients to expand the band to 20mm in 2 mm increments. The Submariner can then securely fit around the diver's diving suit, allowing the diver to clearly see the watch and rotate the bezel.
Rolex holds its professional watches to strict testing standards, and tests each Rolex Submariner vigorously. The first test is air pressure, followed by submersion in a pressurized water tank tube. Next the watch is heated and then a drop of water is put on the crystal to check for condensation. Finally an optical sensor scans the watches to look for trace amounts of water. (Business Insider)
Complications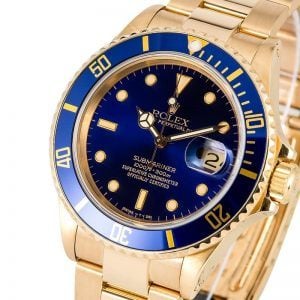 The Submariner is currently offered in steel with a black dial only, however the Submariner Date has the following choices:
steel and yellow gold with a blue dial
white gold with a blue dial
steel and yellow gold with a black dial
yellow gold with a blue dial
steel with a black dial
steel with a green dial
yellow gold with a black dial
The Rolex Submariner continues as one of Rolex's most popular models. Created with the deep-sea diver in mind, the Submariner is an excellent choice when looking for quality, precision, waterproof qualities, durability, and style.