Why are Rolex Watches so Expensive?
October 11, 2016 - 4 minutes read
Why are Rolex Watches so Expensive?


Rolex's steep price are justified by their lengthy research and development process. The designs of in house movement are very complicated and are extremely expensive to develop. A Rolex is comparable to the engine of a car. It is the heart of the whole machine and they require lots and lots of testing, leading to extremely high R&D costs. It does not only take money, but also time to test the quality and endurance of a Rolex. For example, the Rolex Deep Sea Dweller. Can you imagine troubleshooting the in house mechanics and of a watch at 12,000 feet underwater? Imagine the amount of minor adjustments it takes in order to get the watch functioning flawlessly at that depth. That is only one example of the mechanical development process as well.
Material Science
Another factor that adds to their expensive is the R&D of material science. Just one example of this process is the testing that going into the balance spring. Rolex engineers test over 100 materials in creating the most effective balance spring for accuracy of the watch. Rolex does not brag about these processes, however boasts in silence as they are recognized as the most pristine brand in the world of luxury watches.
Rolex's Handmade Manufacturing Process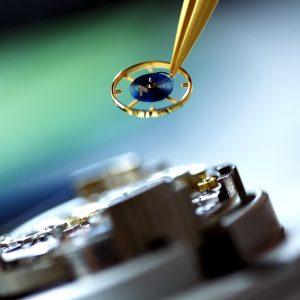 All Rolex Watches are made by hand and the tiny parts that go into them have a high failure rate during manufacturing. Along the assembly line, Rolex's are polished and finished by hand as well. Combined with the fact that the Swiss have the highest cost of labor in the world, and you've got the price of a Rolex.
Materials Used in a Rolex Watch
The materials used in Rolex watches also add to the cost. While most watch brands, even some luxury brands, opt out for cheap materials and metals, Rolex does not. Let's take a look at the metal that most luxury watches use, 316L steel. 316L steel is leaps above what Nixon, Casio, and Citizen watches use. Rolex again stands ahead of the pack in their use of 904L steel. This metal is harder, glossier, and very expensive and difficult to work with. Note the white gold used to construct the hour markers on the dial, the scratch proof ceramic bezel, and the sandblasted platinum numbering on the face.
Cost of a Rolex
When comparing a Rolex to a Tag Heuer or Omega, the prices might be the same however with a Rolex you are getting much much more bang for your buck. Rolex utilizes economies of scale in ways that other luxury brands cannot. Rolex melts their own gold and steel, controls every step of the manufacturing process, and owns exclusive distributing locations across the world. They manufacture 700,000 to 1,000,000 watches per year and are able to price themselves competitively because of it. Rolex is truly a world class brand.
If you're looking to sell a used Rolex watch in Scottsdale, North Scottsdale Loan and Gold will be able to help. We Pawn Rolex Watches, buy Rolex watches, and authenticate Rolex watches.