The Rolex Sea-Dweller


About the Rolex Sea-Dweller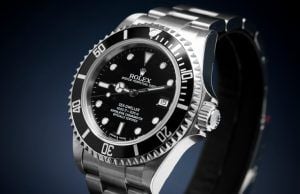 The Sea-Dweller line of Rolex watches is engineered specifically for deep-sea diving. The first Rolex Sea-Dweller watches hit the market in 1967 to fill the needs of deep-sea divers who needed a watch that could function at depths of over 1,000 feet.
The first Sea-Dweller watches had a depth rating of 610 meters or 2,000 feet, but today's models are waterproof to a depth of 4,000 feet. The Rolex Deep sea can withstand even greater depths of 12,800 feet.
These incredible watches are the result of over five decades of collaboration between Rolex and the world's premier diving professionals.
History of the Rolex Sea-Dweller
The need for tool watches capable of operating at great depths first became clear in the 1960s. Deep-sea divers were capable of going deeper than they ever had before, and they needed a watch that would survive depths of over 1,000 feet. To fulfill this need, Rolex introduced its Sea-Dweller line in 1967 with the Rolex Oyster Perpetual Sea-Dweller Submariner 2000, which had a depth rating of 2,000 feet. This model was succeeded by the Sea-Dweller 4000, which was capable of reaching depths of up to 4,000 feet.
Sea-Dweller watches were issued to divers with the Comex S.A. industrial deep-sea diving company until 1992. Current models are still available and can be purchased as luxury watches even by those who aren't as interested in deep-sea diving.
Size and Weight
Since it has to be capable of surviving the ocean's depths, the Rolex Sea-Dweller has to be larger than many other watches. The watch's case has a diameter of 44 mm and a thickness of 17.7 mm with a domed crystal thickness of 5.5 mm. Altogether, the bracelet and the case weigh 212 g, or 7.5 oz. Its innovative Ringlock System allows the case to withstand approximately three tons of water pressure. In short, it is an uncompromising watch that is built to last under the most extreme of circumstances.
As with Rolex's other watches, the Sea-Dweller's case is made from 904L stainless steel. This superalloy is primarily used in the aerospace and chemical industries due to its durability and resistance to corrosion. Naturally, this makes it ideal for a deep-sea diver's watch. It is also highly polishable and maintains its beauty even in the harshest environments.
Distinct Features
The Rolex Sea-Dweller watches are built from materials that can withstand the pressures that come from deep-sea diving, but that isn't the only thing that makes them stand out from other luxury watches. It contains the distinctive black dial of the Rolex brand, with each dial made in-house and largely by hand. The hour markers are made from 18 ct gold to prevent tarnishing.
The Oyster bracelet is designed to be durable, comfortable and attractive. It is designed with an oysterlock clasp to prevent it from opening accidentally as well as a glidelock to allow for fine adjustments without the need for tools.
By far the most distinct feature of the Rolex Sea-Dweller watch is its helium escape valve. When divers have to surface during a deep-sea dive, they have to spend time in a decompression chamber where they breathe in a gas mixture containing helium.
The lightweight gas penetrates everywhere inside the chamber, including the watch itself. The waterproof and air-tight watch case cannot release the helium fast enough during decompression without damaging the case itself. Rolex engineers fixed this problem by outfitting the case with a gas escape valve that opens when the difference in pressure inside and outside the case reaches three to five bars. The helium escapes safely, and the watch is protected.
Complications
There aren't many complications to speak of with the Rolex Sea-Dweller watch. The Sea-Dweller is designed for deep-sea diving, so it is significantly bigger and heavier than other Rolex watches. If you prefer your watches to be narrower and more lightweight, this could be a problem. On the other hand, if you are an avid diver and would love a waterproof watch that is built to last, the Sea-Dweller watch is a great choice.